What a beautiful weekend is now already behind us again....

Thank you very much for your visit, the overall good mood, the interest in precious wood, the various crafts and the professionals, who willingly shared their sectrets, tips and tricks to the audience!

Special thanks to all exhibitors, this way we could represent a great variety this year all together, so there was something interesting for everyone to discover. An extra thanks to Thomas for the main organization, and last but not least to the whole Cropp team for the super cooperation! It was a lot of fun again!

But now to the report:

There was a lot to see, over the three halls and the large courtyard we have 28 exhibitors distributed - such a large number, as never before! Pick up new tips and tricks, get inspired, make contacts with like-minded people and spend a nice day

Address house No. 10:
Sylke Dawartz - Everything about species conservation (NEW), Dr. Gerald Koch - Thünen Institute, Heiko Rockel - Pens made of wood with history, Norbert Zeplien - Writing utensils, Kay Busch - Pytha - 3D CAD system, Christoff Borowski - Model making (NEW), Henning Eberhardt - Historical tools (NEW), Frank Jürgens - Knife maker, Manfred Timpe - HausDrei e.V., Mirjam Poller - wood jewelry (NEW), Richard Stanley - furniture and object design, Arbortech products - Udo Arens, Antje Eickmeier - HolzKunstWerte sculptureing, carving (NEW)
Many questions regarding species protection, CITES, wood species identification and more could be asked to the first two mentioned. Just because there are nevertheless again and again news e.g. concerning CITES. Or it can be very difficult to determine a wood species, so you were free to ask here!
Turning wood artist Norbert, which specialized in turning writing utensils entertained half the hall with a lot of cheerfulness - as you might already know from him. At the stand were not only pencils to buy, you could also watch him live turning. Kay's Pytha CAD system, interesting for carpenters and joiners, could be explained in detail. This year there was a new face, Christoff, who brought his detailed ship models with him to show you and right next to him a stand that we didn't have yet in our repertoire: Historical tools! & apropos tools: Dream knives, hand-forged by Frank Jürgens were presented as well.
At HausDrei e.V. you could get information about the open workshop and its offers. A new face, Mirjam, presented her silver jewelry combined with wood. A very small but fine stand! Richy's stand was shining with countless wooden stars on the table, especially interesting here was: The bog oak slabs cast in epoxy resin. An eye-catcher for those, who know exactly, what wood this is!
At Arbortech's place the chips were flying, a lot of tools were demonstrated here. One stand further you could hear it knocking all the time..., Antje was inviting everyone to try some carving under her guidance.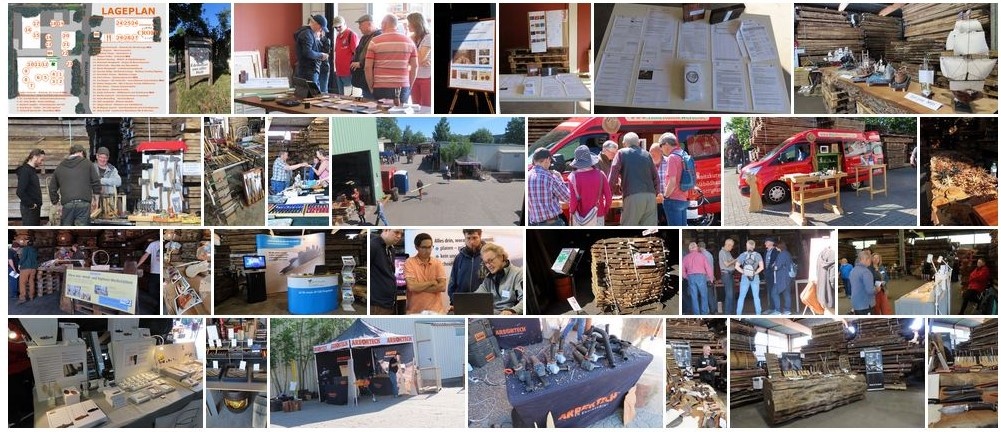 Address house No. 8:
Hermann Borghardt - bow and arrow, Rolf Gruda - solid wood mosaics, Mario Marquardt - leather crafts, Sascha Stoelp - Writing Turning Flipping, The woodturning forum, Kurt Lotzen - toy maker (NEW), Ira Riepen - The wooden owl (NEW), Stefan Siegmund - RBZ Eckener School Flensburg, Dirk Jahns - Dechselkunst.
Old and new faces resulted in a colorful mixture and a wide range of topics, crafts and handicrafts.
Finely handcrafted solid wood mosaics were sparkling across the entire yard, impressively beautiful works with the tiniest patterns. A selection of specialty adhesives and product kits for pen making and more were available at Sascha's stand.
The Drechsler-Forum was represented by Matthias and was considered a meeting place for forum members and those who might want to become one in the future.
At toy maker Kurt's stand you could be impressed by his ingenious games - until there was finally some understanding, how the wooden games really worked. 3 steps further, Ira had brought bows and other finely sawn figures - extremely impressive and detailed handiwork!
At the Eckener School from Flensburg, on the other hand, things were a bit rougher at the beginning of each workpiece. Here, too, everyone with an interest in sculpting and carving was allowed to try their luck under advice.

Address house No. 9b:
The catering point, the Cropp wood store, Martin Steinert - Drechselzentrum Erzgebirge, Hans Weissflog - Drechselkunst, Dirk Jungbluth - monastery ukulele, Jürgen Kusel - works from precious woods, Wolfgang Jansen - handicrafts and writing utensils, Jörg Gesell - Capricorno Naturhaus oils & waxes moved in.
At the french fries, sausage, coffee & cake stand it was full pretty early already, shortly after noon the french fries were already sold out, so that we organized some more french fries. Our wood shop in the back of the warehouse hall was continuously very well visited, which we were of course very pleased about. On about 120 m of shelves we presented turning wood blocks, scantlings, woods for musical instrument making and dried fruits, not to forget the traditional big table in the middle of the warehouse, equipped with selected turning wood blocks.
One of the highlights for wood turning fans were probably Hans & Jakob Weissflog, who had really very impressive, filigree bowls and boxes with openwork technique exhibited and also they were working on some pieces live at the lathe and demonstrated their workflow. At their stand the people often came into conversation. Likewise, on the opposite side, Wolfgang let the chips flying, accompanied by warm ukulele sounds, created by Dirk. With him you can build your own ukulele in a course in the monastery.
We have already received some feedback from you, which is consistently positive about this successful event - thank you very much for the feedback, which pleases and motivates us quite much!
With your support and that of the exhibitors, we were able to collect a great amount of donations for Ukraine, together with the income from coffee and cake sales, we come to an amount of 657.45 euros, which we will round up to 700 euros. Many, many thanks for the support!

And now: please get out your calendar and mark next year's open house, which will take place on 01.06.2024!
Many greetings from Hamburg, your Cropp-Team

And last but not least now the raffles solution:
The knot was a beech knot, and those who checked very closely, could see that it was also hollow inside. This made it of course even more exciting and difficult to estimate.
The knots weight is a 1027 kg and therefore Hans Mayer (estimate 1016 kg) won the 1st place - congratulations on the voucher worth a 150 €.
2nd place: Nele Altner (estimate 1007 kg) voucher worth a 100 €
3rd place: Walter Schmitz & Marcel Melzer (estimate 1050 kg each) vouchers worth a 50 € each.
All winners have already been notified by e-mail (please also check your spam folder)!